Morocco is a country of contrasts, where tradition and modernity coexist in harmony. For the female traveler, it is essential to understand and respect cultural norms, especially when it comes to clothing. Although Morocco is a progressive country, modesty remains a fundamental value, especially in rural areas and religious places.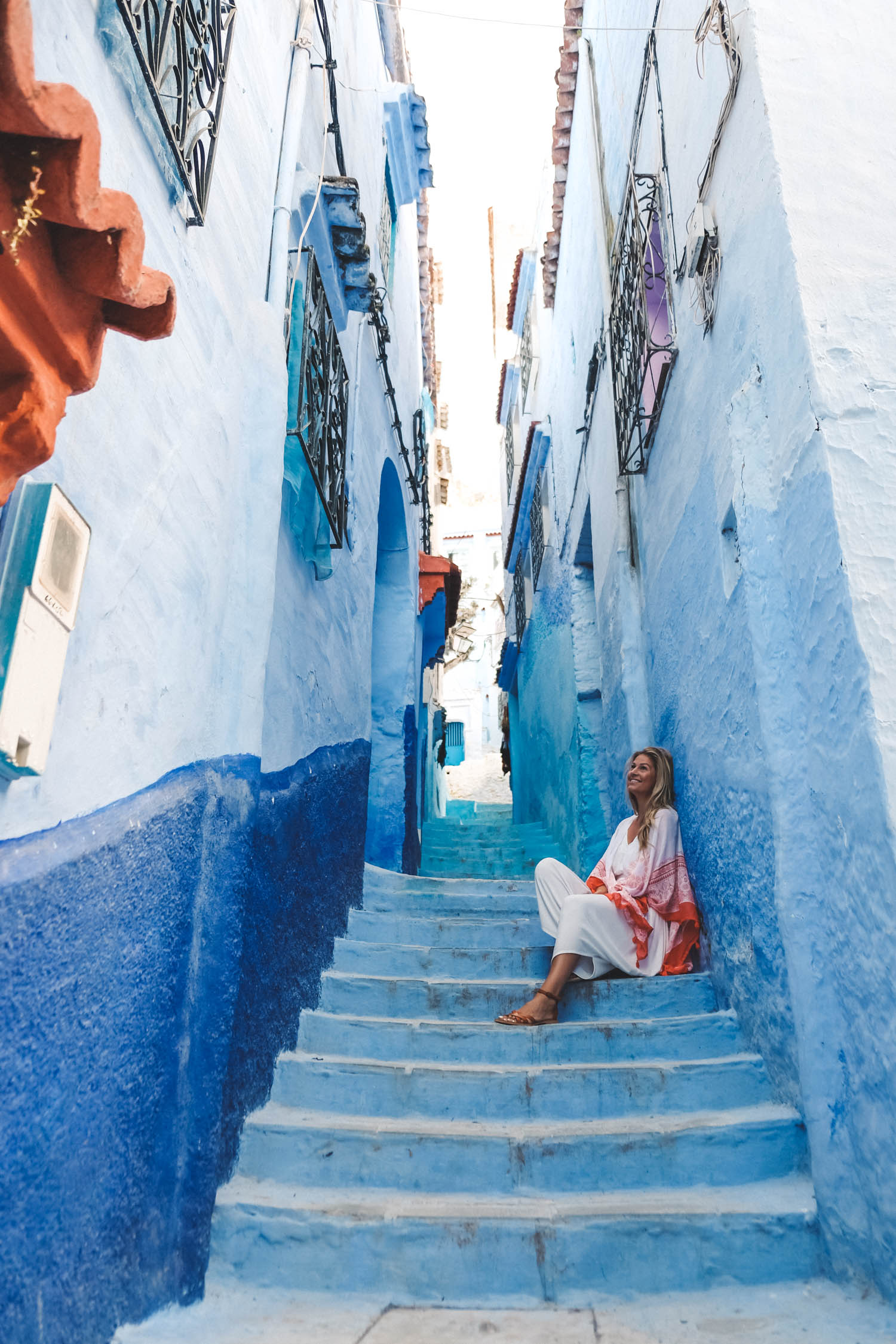 What to pack and how to dress in Morocco as a woman
Packing to go to conservative countries, like Morocco, can be complicated, especially when the weather is hot. Although it is good to be covered, it is also essential to be cool. Local women dress conservatively, but you will see a wide range of outfits in Morocco, and in very touristy areas.
Women in tourist areas wear everything from crop tops to burqas. I highly recommend finding a middle ground, respecting the local culture and opting for more conservative outfits. Street harassment is common and whether you like it or not, the attention and respect you receive will depend on what you are wearing. Do you want to look and feel amazing on your adventure?
Here are some conservative outfit ideas and packing tips for women traveling to Morocco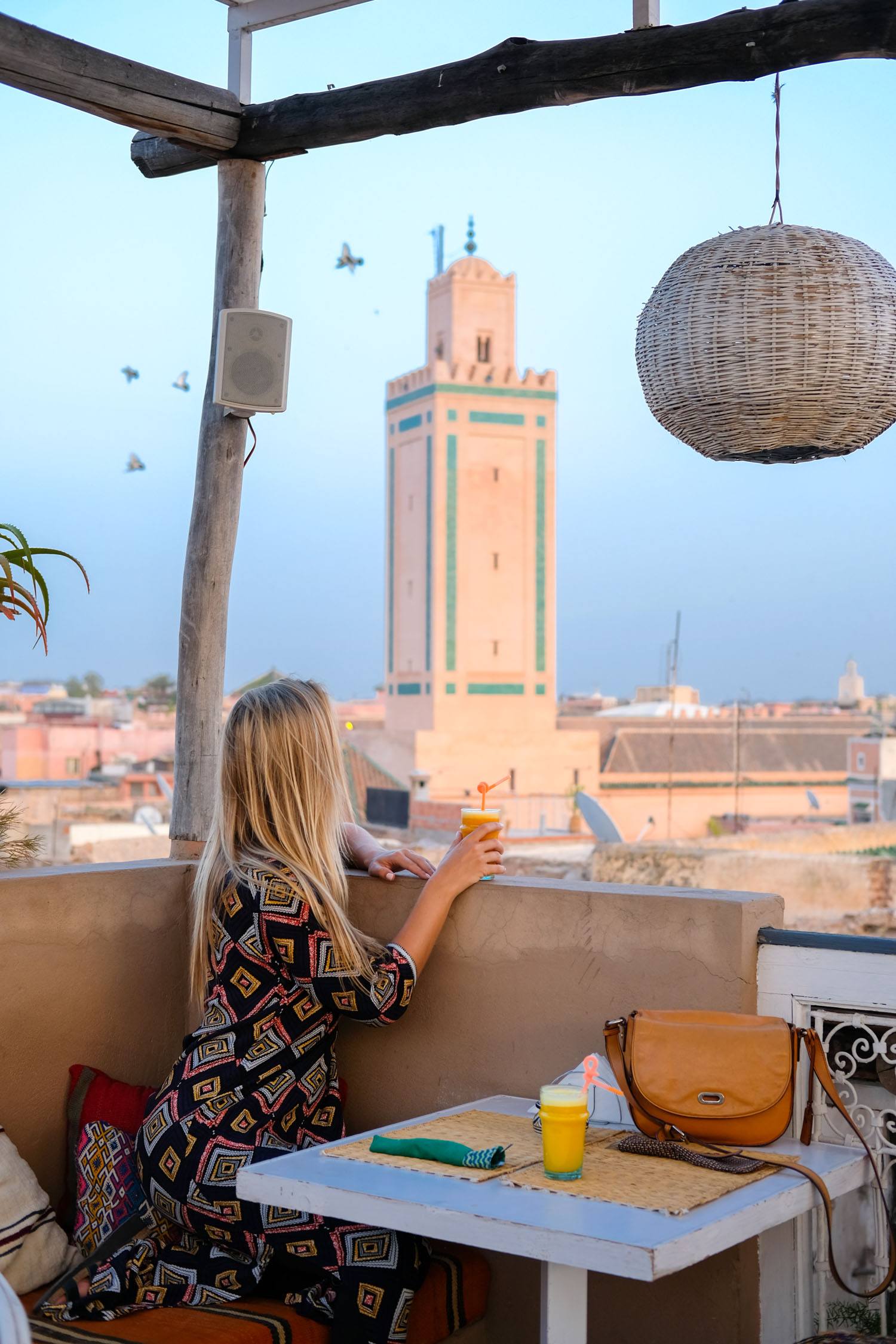 Essential clothing for the Moroccan climate
The climate in Morocco varies from warm beaches to the cold Atlas Mountains. Therefore, it is essential to wear versatile clothing:
Light and breathable clothing: Ideal for the heat of the desert and cities during the summer.
Warm layers: Essential for nights in the desert or visiting the mountains.
Light jacket or sweater: Temperatures can drop considerably at night, even in cities.
Traditional clothing vs. modern clothing: Finding a balance
Although it is common to see Moroccan women wearing traditional caftans and djellabas, many also opt for Western clothing, especially in the cities. As a female traveler, you can:
Opt for long pants or knee-length or longer skirts.
Wear blouses or t-shirts that cover the shoulders and are not too low-cut.
Wear a scarf or shawl: It can be useful to cover yourself in religious places or to protect yourself from the sun.
Footwear: From desert treks to city walks
Proper footwear is essential:
Comfortable sandals: Ideal for the heat, but make sure they are suitable for walking long distances.
Sneakers or closed shoes: Recommended for visiting the desert or rural areas to protect your feet from dust and stones.
Accessories and complements
Hat or cap: It will protect your head from the intense Moroccan sun.
Sunglasses: Essentials all year round.
Zipper bag: To keep your belongings safe while you explore the souks and markets.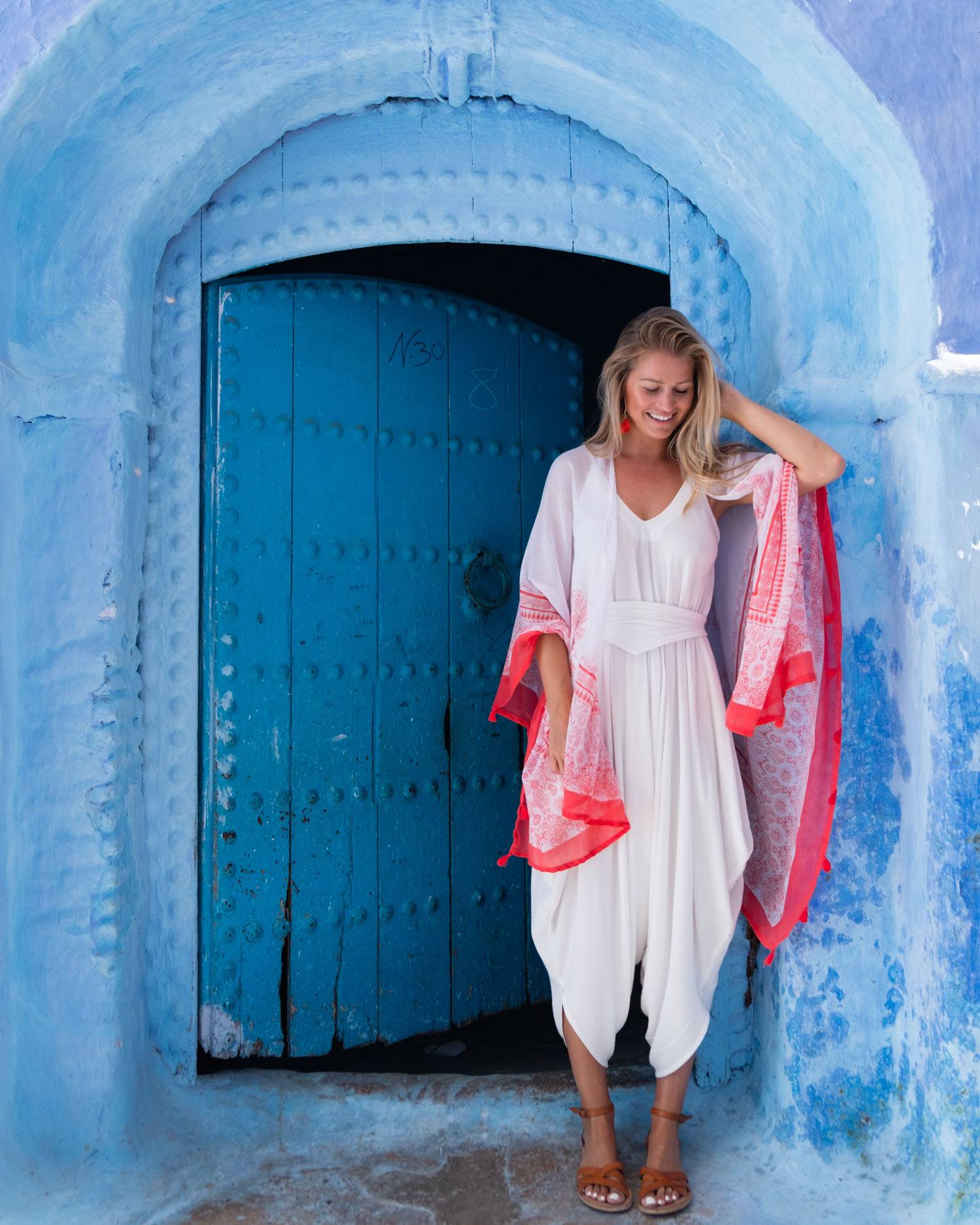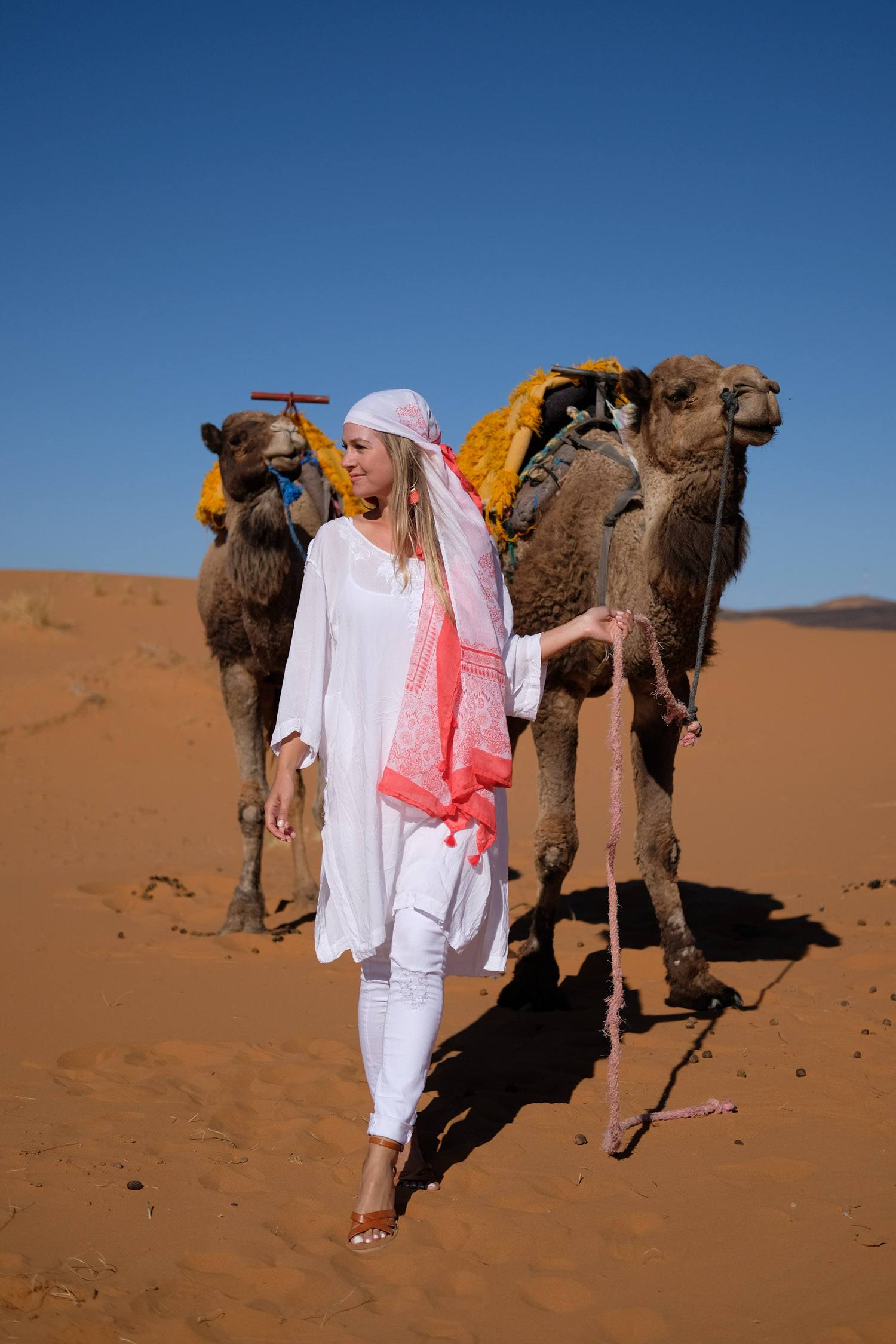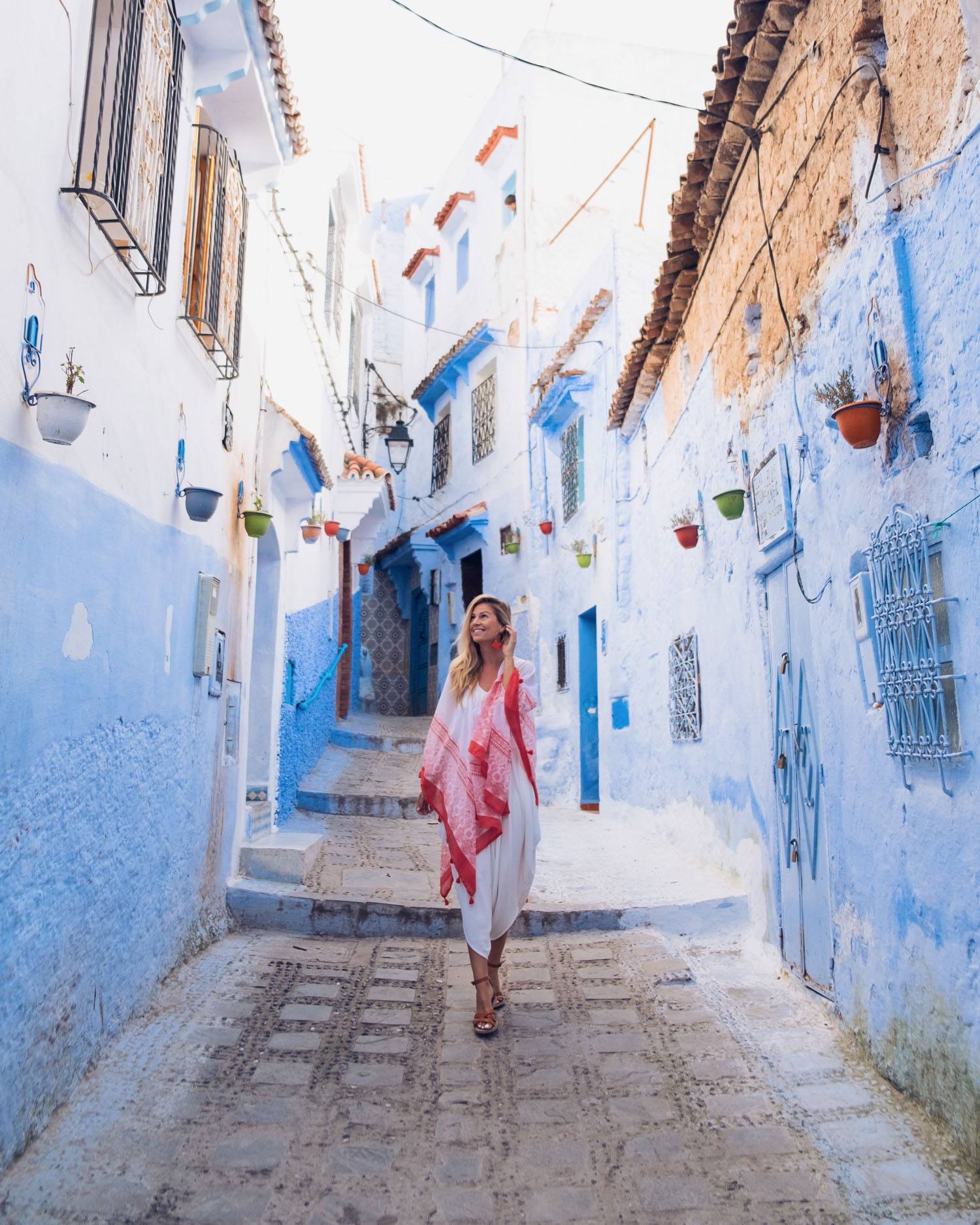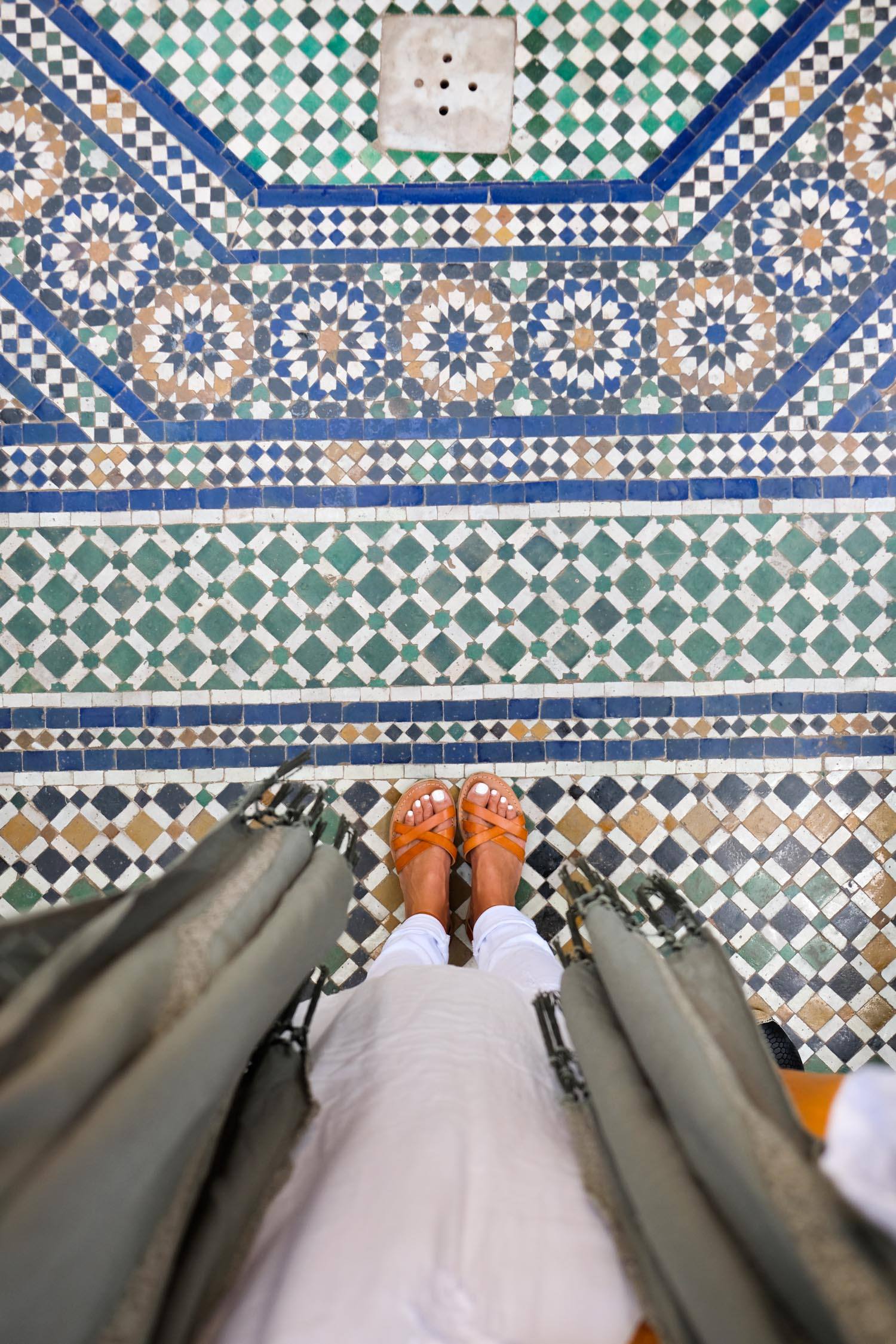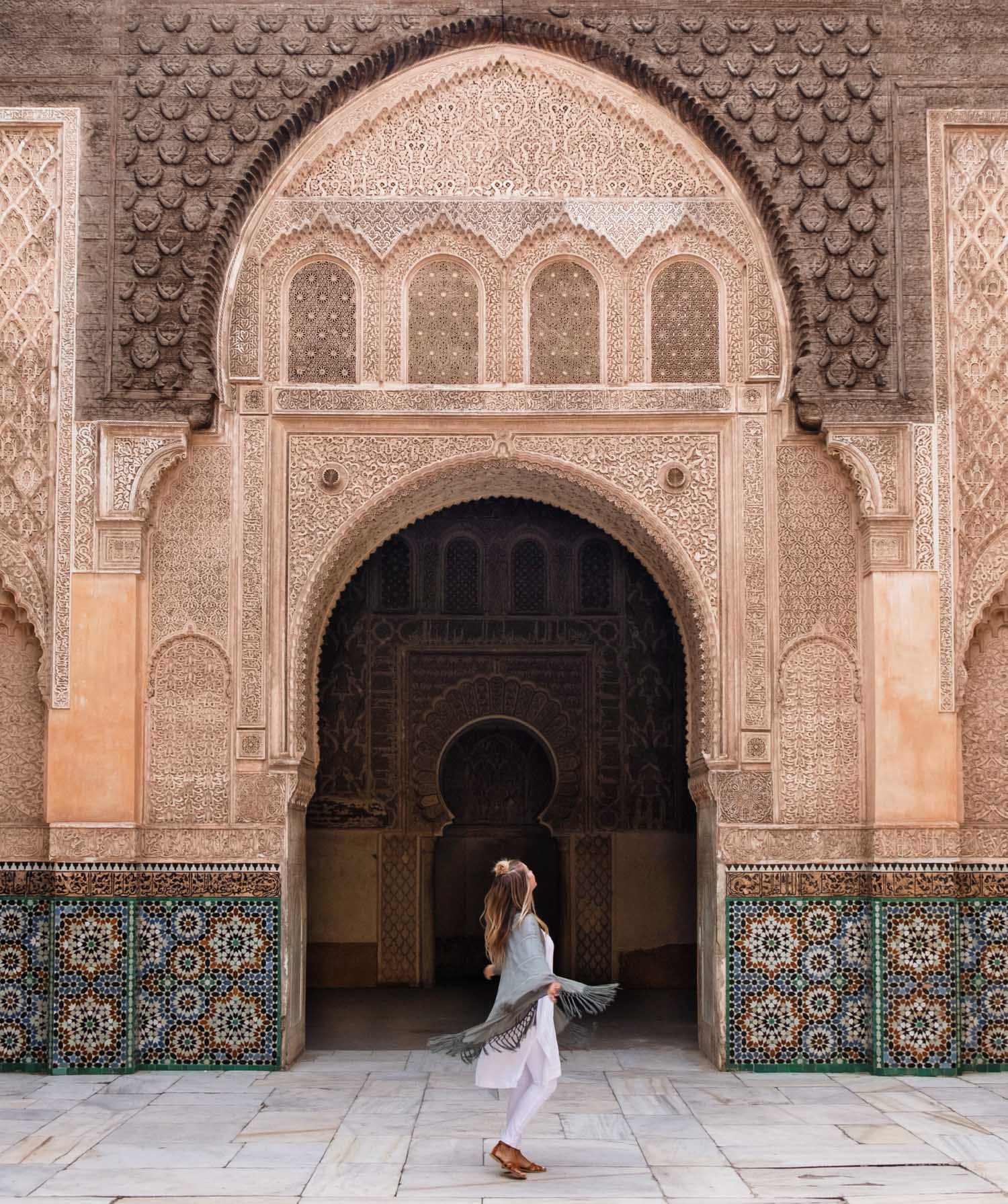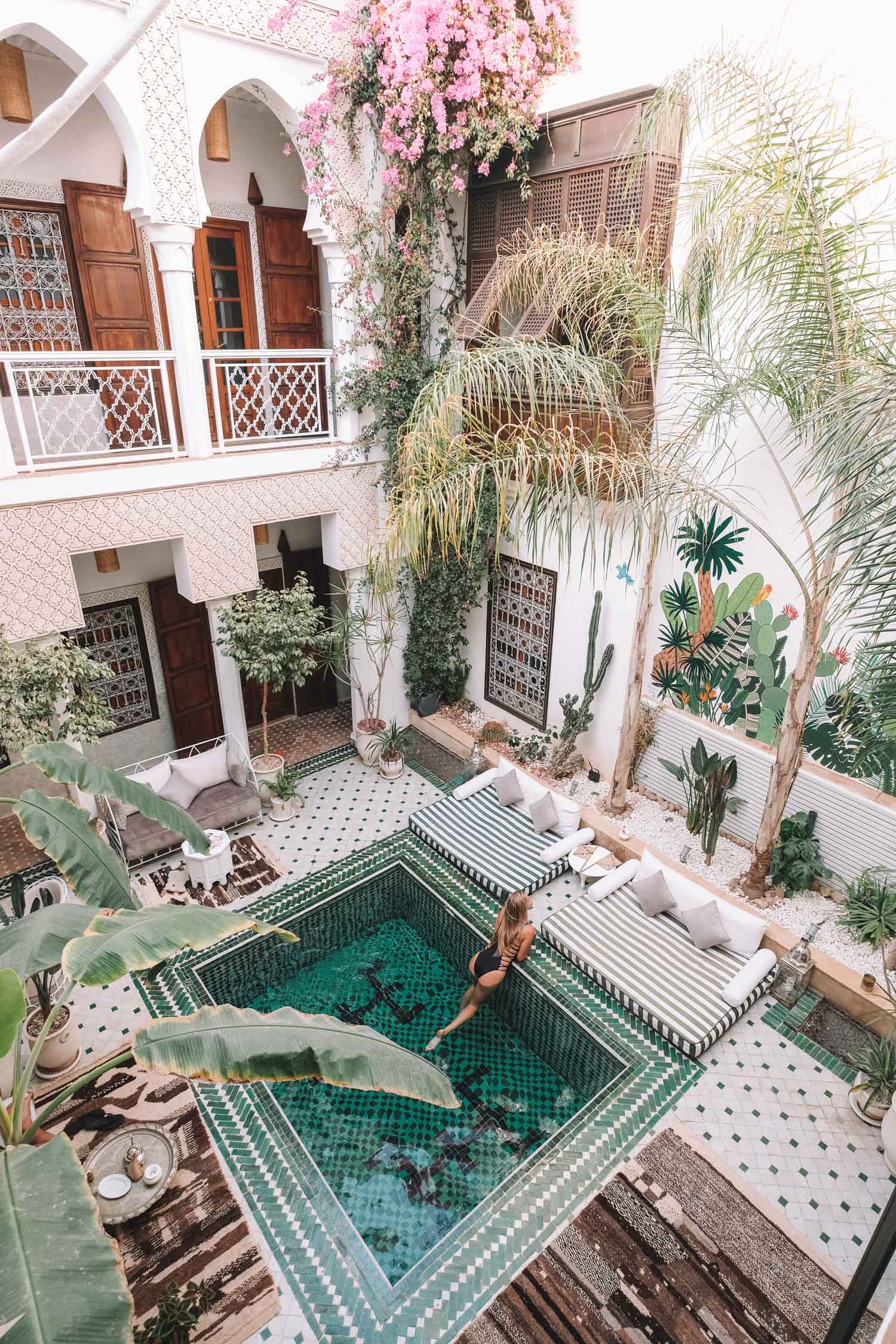 Tips for packing and dressing in Morocco
In winter, you'll find temperatures between 40 and 70 degrees Fahrenheit, and in the hottest summer months, days range between 70 and 100 degrees. At any time of the year, wear warm layers for the evening
The ideal is everything that is light and covers the entire body: loose pants or maxi skirts are perfect. A tunic dress or shirt with leggings or a full kaftan is also great. Full coverage not only allows you to dress conservatively in Morocco, but will also protect you from the sun.
Closed toe or comfortable shoes are a must for long days of exploring. It is also practical to have sandals or flat shoes for when you want to run around the riad or take short walks.
Whatever you wear, carry a light scarf with you. You can use it to cover yourself before entering a mosque or simply to keep the sun off your skin when you get hot. Moroccan scarves are also great souvenirs, so plan to buy one there. You'll find them in almost any city or town, so there's no need to bring your own if you don't want to.
The sun in Morocco can be intense all year round. Bring sunglasses, a hat, and sunscreen.
What are your favorite tips for packing in a conservative country?
FAQ
1. Is it mandatory for female travelers to wear hijab in Morocco?
No, it is not mandatory for female travelers to wear hijab in Morocco. However, it is advisable to dress modestly, especially when visiting religious sites or rural areas.
2. Can I wear shorts or short skirts in Moroccan cities?
Although Morocco is a relatively liberal country, it is recommended that women avoid wearing shorts or short skirts, especially outside of tourist areas, to respect local cultural norms.
3. What type of footwear is most suitable for walking through the medinas and souks?
It is recommended to wear comfortable, closed-toe shoes, such as sneakers or flat shoes, as the medinas and souks often have cobblestone streets and can be crowded.
4. Is it appropriate to wear swimsuits on the beaches of Morocco?
Yes, on the beaches it is common to see tourists and locals wearing swimsuits. However, it is recommended to bring a sarong or something similar to cover yourself when leaving the beach or visiting nearby places.
5. Do I need to bring special clothing if I plan to visit the desert?
Yes, for the desert it is recommended to wear light clothing that covers the skin to protect yourself from the sun and sandy wind. It is also essential to bring a hat, sunglasses and sunscreen.
I am sorry that this content has not been useful to you!
Let me improve this content!
Tell me, how can I improve this content?
I am a passionate traveler with an innate desire to discover the world. To date, I have had the privilege of visiting 31 countries and most of them have left an indelible mark.
During my travels, I have gained valuable knowledge on how to travel efficiently. I have perfected itinerary planning, accommodation selection, and making the most of each experience. I am proud to share my tips and tricks with you so that you can enjoy hassle-free and unforgettable trips.
On this blog, you'll find a carefully curated selection of destinations, practical tips, and honest reviews of hotels and tourist attractions. My goal is to inspire you and provide you with useful resources so that you can plan your own adventures with confidence and peace of mind.
May travel fill you with joy and open you up to new possibilities!